While there are many great business blogs and other resources for small business owners, serious entrepreneurs know that when it comes to in-depth coverage of a topic, nothing beats a book (or e-book or audiobook – we don't discriminate). That is why we read over a dozen recently published dropshipping books and voted on our top five dropshipping books of 2022.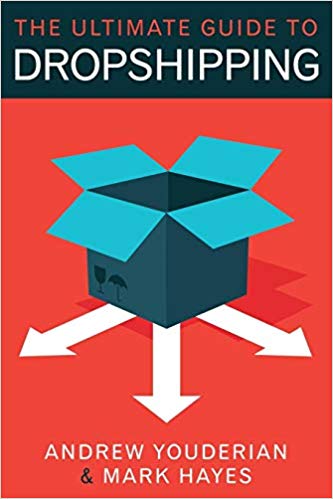 The Ultimate Guide to Dropshipping by Mark Hayes and Andrew Youderian, as the title suggests, is a massively in-depth guide on how to create and run a successful dropshipping business. This book takes a no-nonsense approach to dropshipping, combining the authors' extensive experience in online marketing with a wealth of data, hands-on examples, and time-saving tips and advice.
The Ultimate Guide to Dropshipping delves headfirst into complex topics that other books frequently gloss over, such as how to validate your product idea before beginning to sell it or how to set up effective social media retargeting. It is well-organized and guides readers through each topic in an efficient and understandable manner. It also covers other dropshipping-related topics such as how to set up your SEO campaigns.
Also Read: 10 Best Chat Tools for Small Businesses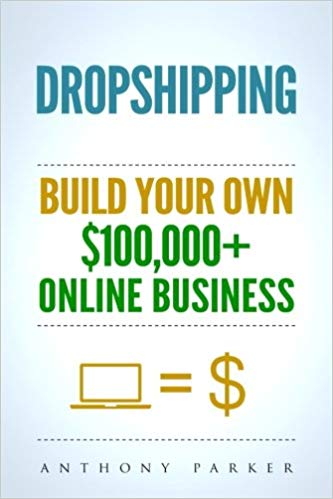 Dropshipping: How to Make Money Online and Build Your Own $100,000+ Business by Anthony Parker Drop Shipping Online Business delves into the specifics of running a successful dropshipping business using real-world examples from 50 American dropshipping companies.
This book excels at getting you out of textbook rhetoric and into the trenches. A variety of dropshipping merchants will provide you with advice, warnings, anecdotes, and business philosophy. While this book is a welcome change from the textbook theory of other books in this genre, it can be difficult to contextualise the comments or advice in a way that is applicable to your own store, and the answers provided by merchants sometimes contradict one another.
It smoothes this out with a well-organized narrative on how to start a business and does a good job of providing context when needed.
If you're looking for a realistic look into the lives and habits of successful dropshipping merchants, this book provides a great behind-the-scenes look at entrepreneur life. Furthermore, because it is full of input from real merchants rather than self-proclaimed gurus, it avoids the 'Lamborghinis for everyone' rhetoric that is prevalent in other dropshipping books.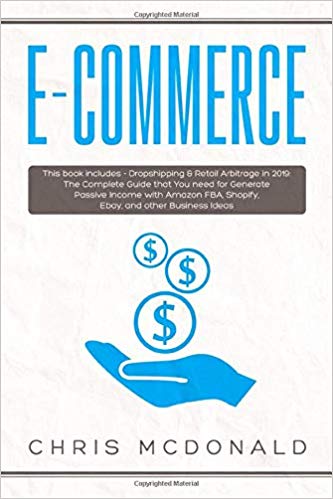 Chris McDonald's E-Commerce is essentially two books in one, combining a book about dropshipping with a book about retail arbitrage (buying things from retail stores and selling them for a profit online). E-Commerce, at 243 pages, will walk you through everything you need to know to start making money with your online store. It is an ambitiously broad overview of almost everything ecommerce, covering everything from the different types of ecommerce businesses to how to set up profitable social media advertising campaigns.
E-Commerce provides readers with the ideal blend of beginner-friendly theory and practice-tested insights, with a large amount of real-world, hands-on insight from a variety of online businesses. This is the dropshipping book for you if you want to go beyond the basics of setting up a dropshipping store and into more advanced topics like setting up remarketing campaigns or testing different pricing levels.
Also Read: 32 Best Small businesses to invest in 2023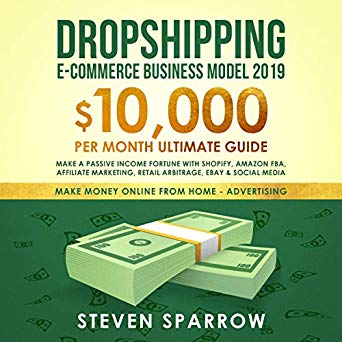 Steven Sparrow, like many other dropshipping authors, stuffs keywords into his book titles – the full title of this book on Amazon is "Dropshipping E-Commerce Business Model 2019: $10,000/Month Ultimate Guide – Make a Passive Income Fortune with Shopify, Amazon FBA, Affiliate Marketing, Retail Arbitrage, eBay, and Social Media: Money Online from Home in 2019, Book 2." Unlike many dropshipping authors, he also includes a lot of useful information in his book.
The Amazon product description states that this isn't the book for you if you want to get rich quick. It's a great read for anyone looking for an in-depth walkthrough of how to deal with some of the more difficult aspects of running a business while also remaining an uplifting "let's get this bread" type of read. Sparrow's book earned the #4 spot on this list by combining information not covered in any of the other books on this list with a realistic yet motivational tone. Paperback, e-book, and audiobook formats are all available.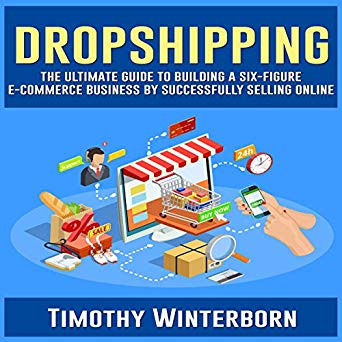 Dropshipping: The Ultimate Guide to Building a Six-Figure Ecommerce Business by Timothy Winterborn is a great beginner-level walkthrough of how to set up a dropshipping business. Winterborn's book will get your dropshipping store up and running in a well-organized, methodical manner, delving into topics such as product selection, niche marketing, finding suppliers, and getting your website up and running.
Winterborn's book appears to be based primarily on his personal experiences, with some anecdotes and insights from the author's dropshipping career, but it lacks the external perspectives and in-depth research found in some of the other dropshipping books on this list. This simplicity isn't necessarily a bad thing for a reader looking for a quick, well-organized walkthrough of how to set up a dropshipping website, but it could be a turnoff for an experienced dropshipping merchant looking for some in-depth insights.
Start Your Own Dropshipping Business
The books on the list above are a great place to start if you're starting your own dropshipping business but want to do your research and make sure you have a solid plan in place. Check out Volusion's Beginner's Guide to Dropshipping or our guide to high ticket dropshipping for more information on getting started with your own dropshipping store.